OCT 21, 2020CONVOCATORIA, NEWS, BIOAMAZONÍA PROJECT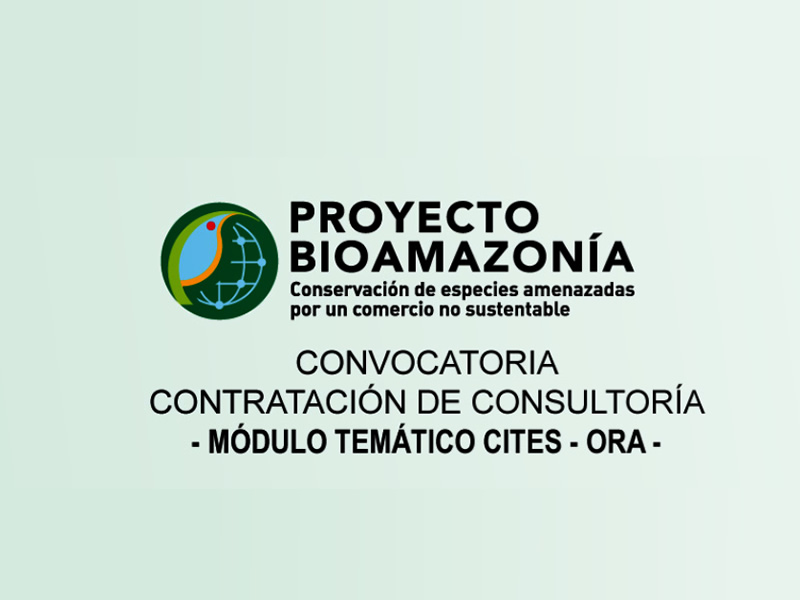 OTCA opens the selection process to hire a company for the construction and implementation of the online platform of the CITES thematic module articulated to the Amazon Regional Observatory (ORA), within the framework of the Bioamazonia Project, which will be open until November 9, 2020.
Deadline: until November 09, 2020; until 18:00 (Brasilia time).
Funding source:Funds will be provided by the Regional Project for the management, monitoring and control of wildlife species threatened by trade (Project Bioamazonia) – Financial cooperation between Germany and ACTO through the German Development Bank – KfW, on behalf of the German Ministry for Economic Development and Cooperation (BMZ), within the scope of Component 1: National and regional information and knowledge management systems.
Submission of documents:Interested parties should send all documentation in accordance with Annex I of the Terms of Reference, including the Declaration of Commitment (attached) to the email: selecao@otca.org until November 09, 2020 at 18:00, Brasilia Local Time.
The subject of the e-mail message must refer to: BRASIL-SP/OTCA: Bioamazônia Project – Implementation of the CITES module.
The activities and products to be delivered are available in the Terms of Reference attached.
The value of the financial proposal must be presented in U$D (US dollars), including taxes and social charges. The value of the proposal cannot exceed U$D 20,000.00 (twenty thousand dollars).
The validity period of the proposal must be 30 (thirty) calendar days from the date of receipt.
For further information, please contact Mr. Sergio Paz Soldán, Administrative, Financial and Purchasing Manager by e-mail: sergio.pazsoldan@otca.org with a copy to Mr. Mauro Ruffino, Project Coordinator, by e-mail: mauro.ruffino@otca.org.
Additional files
ToR – CITES Thematic Module (PDF – 1545 Kb)
KfW_Declaration_Commitment (PDF – 7 Kb)